History: Moodna History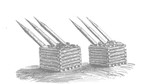 Cheavaux-de-frise deployed in Cornwall Bay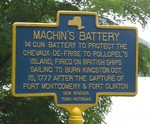 Colonial Troops Fired on British at Plum Point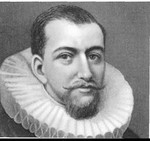 Henry Hudson is still making news 400 years after he sailed up the Hudson.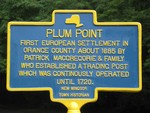 MacGregorie Historic Plaque at Plum Point



When Henry Hudson first sailed up the Hudson River and dropped anchor off Moodna Creek, in September 1609, people of the Lenape Nation inhabited the land and practiced agriculture, hunting and fishing.Over the next one hundred they would be displaced by those who followed in Hudson's wake.

Seventy-five years after Hudson called Cornwall "a very pleasant place to build a towne on," the first Europeans settled in Orange County at the mouth of the Moodna Creek, near Plum Point, in 1685. Patrick MacGregorie led a group of 25 Scotch Presbyterian families to the site where they ran a trading post for the next 35 years. A local legend, widely discounted, claims that one of the families that came with MacGregorie was brutally murdered on the banks on the Moodna creek by Native Americans. The family, it was said, tried to flee across the Hudson but was captured and returned to the creek that then became known as Murderer's Creek. In the mid-1800s local writer/poet Nathanial P. Willis was assigning new names to local landmarks and changed Murderer's Creek to Moodna Creek and Butter Hill to the more evocative Storm King Mountain.


Revolutionary War Launch

The west shores of Cornwall Bay played a part in Revolutionary War history when an engineer named Thomas Machin built cheavaux-de-frise at Plum Point before deploying them in the waters off Pollepel (Bannerman's) Island in a futile effort to keep British ships from passing. He fashioned the cheavaux –de-frise from sharpened tree trunks with iron points sunk into caissons filled with stones. Machin also directed the fabrication of the iron chain strung across the Hudson in West Point. Some of those links were forged on the banks of Moodna creek, at a site along Old Forge Hill Road.

The cheavaux failed miserably and the British, after defeating forces at Fort Montgomery and Fort Clinton, sailed past a 14-gun battery deployed at Plum Point to Kingston.
For more about the cheavaux-de-frise click here.


Comments:
Add a Comment:
Please signup or login to add a comment.